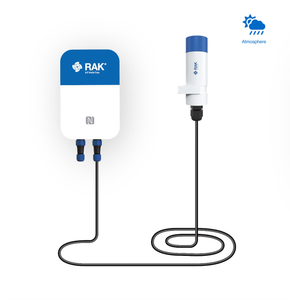 Atmosphere Monitoring
Barometer Pressure Sensor
LoRaWAN/NB-IoT/Cellular IoT
Regular price
$99.00
$0.00
Variant prices start at $99.00 to $129.00.

The shipping fee is calculated at checkout.
Prefer another courier for your delivery? Contact us for special shipping arrangements.
Description
The Sensor Hub atmosphere monitoring solution includes the popular RAK1902 Barometer Pressure Sensor inside the Sensor Probe. Its low power consumption and accurate data-gathering abilities allow you to measure fluctuations in the pressure exerted by the atmosphere. The sensors require protection from condensing humidity, precipitation, and water ingress that the Sensor Probe provides.
The Splitter cable can connect several Sensor Probes and Probe IOs to a single Sensor Hub port. The distance between the Sensor Hub and Sensor Probe/Probe IO can be extended via the Extension cable.
The product can be used in any use case where atmospheric pressure is important. Some use cases are weather measurement, altitude compensation, altimeters, weather forecasting, and much more.
Note: The Sensor Hub can be powered with 2 to 4 ER18505 non-rechargeable batteries. They are NOT INCLUDED. You need to supply them separately. Find more on where you can find compatible batteries here.
The Sensor Hub has two variants based on the communication type - LoRaWAN only and LoRaWAN+NB IoT. SensorHub's NB-IoT module supports two types of LTE (Long-Term Evolution) categories, namely CAT M1 and CAT NB2. CAT M1 offers higher data rates and lower latency, while CAT NB2 provides ultra-low power consumption and greater coverage, making it an ideal choice for devices that operate on batteries and require long-term connectivity.
Features
LoRaWAN/NB-IoT communication
External DC power supply (optional)
Solar panel power source (optional)
Auto-identification of the sensor type
One-wire protocol
Waterproof (IP67-rated for the probe body)
| | |
| --- | --- |
| Parameter | Value |
| Pressure range | 260-1260 hPa |
| Pressure accuracy | ±0.1 hPa |
| Temperature range | -40 °C to +85 °C |
| Temperature accuracy | ±1.5 °C |
Included in the Package:
1x Sensor Hub
1x Sensor Probe PR (Barometric Pressure)
Documentation
Questions and Answers
Have a Question?
Be the first to ask a question about this.
Ask a Question
Similar Products in this Category