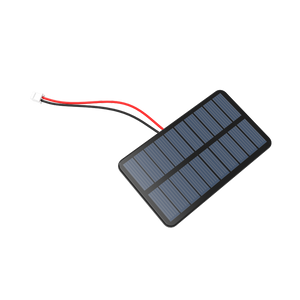 Solar Panel
Regular price
$3.50
$0.00
The shipping fee is calculated at checkout.
Prefer another courier for your delivery? Contact us for special shipping arrangements.
Description
This solar panel is the perfect add-on to your IoT product. With its size of 80x45mm it fits on our Unify Enclosures or your custom enclosures. It's capable of charging the battery from the sun and extending the battery life time. If you have a low-power solution built with our WisBlock system or based on our low-power WisDuo modules, it is able to keep your device independent from recharging through external supplies.
It comes with a 10cm long cable and ZHR-2 1.5mm plug that fits with the connectors of our WisBlock Base Boards and the RAK5010 WisTrio modules.
Features
Size 80x45x2mm
Works with WisBlock Base Boards and the WisTrio RAK5010
Open circuit voltage 6.1V (±10%)
Voltage at nominal power 5V (±10%)
Current at nominal power 90mA (±5%)
Cell efficiency 18%
UV resistant
Operating environment
Temperature -20-65℃
Humidity 45-85%
Lifetime 5 years
Documentation
Questions and Answers
Have a Question?
Be the first to ask a question about this.
Ask a Question
Similar Products in this Category