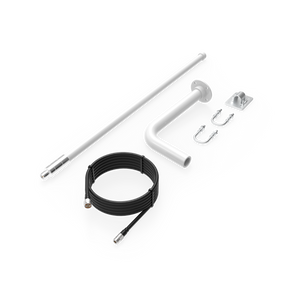 5.8dBi Outdoor LoRa Gateway Antenna Mounting Kit
Regular price
$61.00
$0.00
Variant prices start at $61.00 to $100.00.

The shipping fee is calculated at checkout.
Prefer another courier for your delivery? Contact us for special shipping arrangements.
Description
To achieve optimal coverage with RAK Edge gateways for your projects and deployments, outdoor antennas, usually installed on the gateways, can be positioned in a higher place with good visibility instead. This can be achieved with high-quality low-loss cables and antenna mounts.
Antennas are usually installed on poles or towers, but such may not always be available. To remedy this, we present four antenna mount options that will allow you to easily install your antenna in almost any scenario and provide the best coverage for the end devices.
Beside the different mounting options, you can choose from four length options of the high-grade, low-loss Pulsar LMR400 cable. The cable comes with an N-Type male to N-Type female connector, suitable for the WisGate Edge Pro/Pro V2/Prime models.
Note: The Kit accommodates the 8-channel LoRaWAN gateways. For the successful upgrade of a 16-channel LoRaWAN gateway, you will need two (x2) pieces of this kit.
Included in the package:
8dBi fiberglass LoRa® antenna(in selected band)

A-fix bracket

Low-loss LMR400 pulsar cable (based on the selection)

Your chosen antenna mounting kit.
Documentation
Questions and Answers
Have a Question?
Be the first to ask a question about this.
Ask a Question
Similar Products in this Category