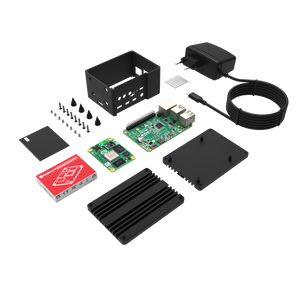 Compute Module 4 Kit (Raspberry Pi CM4 Kit)
Regular price
$39.00
$0.00
Variant prices start at $39.00 to $129.00.

The shipping fee is calculated at checkout.
Prefer another courier for your delivery? Contact us for special shipping arrangements.
Description
RAKR314 carrier board is designed specifically for the Raspberry Compute Module CM4 following the Raspberry Pi4 form factor. This feature-packed board includes a standard 40 PIN GPIO and supports the RAK PoE HAT, making it an excellent choice for power-over-ethernet applications. With two USB 2.0 ports, two USB 3.0 ports, and two USB-type C ports (one for power and one for programming), and an Ethernet port, this board has all the connectivity options you need. Additionally, the SD card slot provides extra storage for the eMMC CM4 modules or serves as a main(boot) for non-eMMC modules. One of the best things about the RAKR314 is that it allows you to utilize the power of the CM4 module in the familiar Raspberry Pi form factor, so you can take advantage of all your existing HATs. And, with the included enclosure kit, building your devices has never been easier.
Features
Raspberry CM4 Carrier Board
Raspberry Pi 4 form factor
2x USB2.0, 2xUSB3.0 Ports
Ethernet connector
PoE HAT support
40 PIN GPIO connector
2 type C ports (1 for power and 1 for programming the CM4)
SD card slot
Included in the package:
With CM4 module
1x Raspberry Pi Compute 4 4GB
1x RAKR314 CM4 baseboard
1x Enclosure kit (92 x 68.3 x 57.2 mm)
1x Thermal pad for the CM4 module
1x Power adapter
Without CM4 module
1x RAKR314 CM4 baseboard
1x Enclosure kit (92 x 68.3 x 57.2 mm)
1x Power adapter
Documentation
Questions and Answers
Have a Question?
Be the first to ask a question about this.
Ask a Question
Similar Products in this Category