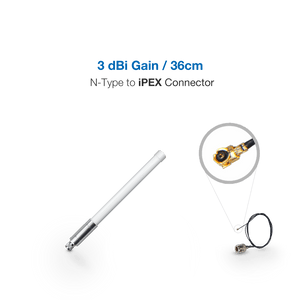 3dBi Fiberglass Antenna
Supports 433Mhz, 470-510Mhz, 860-930Mhz
Regular price
$27.50
$0.00
Variant prices start at $27.50 to $32.50.

The shipping fee is calculated at checkout.
Prefer another courier for your delivery? Contact us for special shipping arrangements.
Product Description
This is a high quality outdoor antenna designed to be deployed outdoor, for better range. The antenna connector is one with the antenna body, because this design increases the resistance of the antenna to external conditions further. It is IP67 rated, making it weather proof. It is designed to work in the sub-GHz bands like US915, AU915, AS923, EU868, IN865, RU864.

The coverage that this antenna provides makes it ideal for deployment outdoors in a relatively high altitude spot within an urban area or a suburb of a fairly large urban area, because in such a scenario it is likely that the signal will reach a significant portion of a suburb or neighborhood without developing blind spots in close proximity to the exact physical location of the antenna.
As this is a lower dBi antenna, it is designed to provide better, fuller and more stable coverage for devices that are situated nearby as opposed to a higher dBi antenna, which would be able to do the same for devices that are situated further away from its location. The general logic related to the difference between a higher dBi antenna and a lower dBi antenna is best understood by viewing the following picture:
The exact shape of coverage for antennas in general resembles that of a doughnut, while the exact radiation pattern for the currently discussed 3 dBi antenna can be viewed on the following picture:
Overall the specs of this particular antenna are a great fit for use with a Helium hotspot, such as the RAK Hotspot V2, or MNTD Hotspot mostly because you will be able to reach a great number of witnesses within the urban area where the deployment would be situated, especially if you manage to install it at the very top of a building, where it would have a direct line of sight towards all of the buildings nearby.
An example for a good deployment of such an antenna in relation to other Helium hotspots nearby can be seen on the image below:
You should also keep in mind that it is always a good idea to use a combination of antennas with varying dBi in order to achieve better overall coverage and fewer blind spots.

To choose the appropriate antenna with regards to the LoRa frequency of your region, please refer to the TTN's guide, and/or the Regional Parameters Documentation provided by the LoRa Alliance.

Key Features
Frequency: 860 - 930

MHz

Gain: 3dBi
VSWR: 

≤1.8

Beamwidth: 360 degrees
Impedance: 50 Ohms
Polarization: Vertical
Radome Body: Fiberglass
Connector: N-Type Male
Dimensions:

Փ 28.0 mm x 

360
Operation Temp: -20ºC~ +65ºC
Storage Temp: -30ºC~ +75ºC
IP67 rated
Package Inclusion
1pc Antenna
1pc Pigtail interface converter
Documentation
Become a RAK Affiliate and Earn Today!
Get paid to talk about RAK products! Join the RAK Affiliate program today. 
Questions and Answers
Have a Question?
Be the first to ask a question about this.
Ask a Question
Product Reviews
Customer Reviews
09/20/2021
Hans H.

United States
I recommend this product
3dBi antennas have questionable VSWR
I mailed the antenna back to you at your request for your own internal tests. I am still awaiting result from your test- would love to update the channel. https://youtu.be/uf5uyckRbSs . I've also received comments that these are 2dBi antennas (not 3) per comments posted to channel from antenna breakdown. https://youtu.be/raTcOeCUY_w . 5.8 dBi antennas seem to perform better.
Similar Products in this Category
Documentation
Become a RAK Affiliate and Earn Today!
Get paid to talk about RAK products! Join the RAK Affiliate program today.